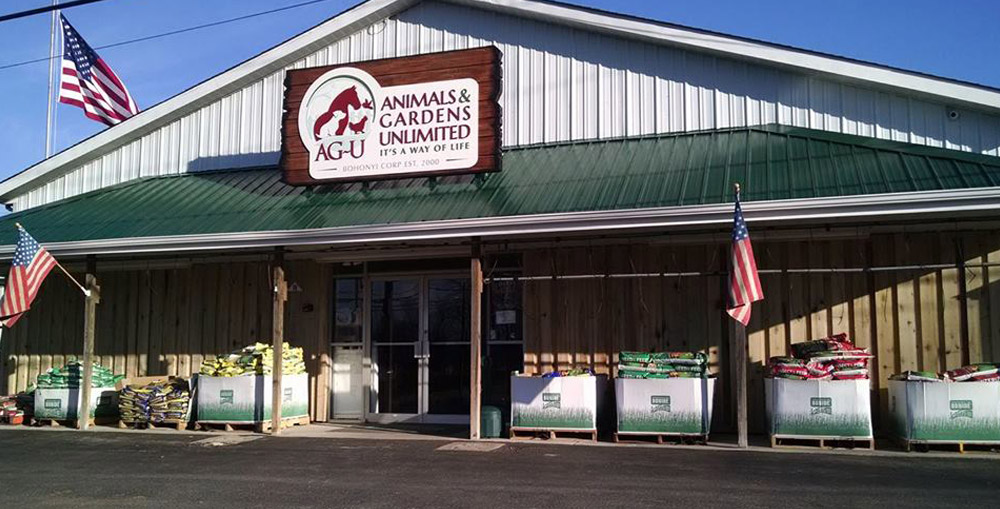 About Us Now!
The Times They Are a-Changin'
You know us as New Egypt Agway, we are now Animals and Gardens Unlimited
I hope you are not shocked by the new name and logo on the front cover of our Spring magazine, but I do hope that it grabbed your attention. If you are receiving this publication, then you are high on our customer priority list; as such you are among the first to be introduced to our new identity. I am excited to explain all of the details, however, I first want to assure you that there has been no change of ownership or management. You will not notice any difference when you walk into our store. Over time, you will see the signage on our building, the lettering on our trucks and the print on our uniforms updated with our new name and logo.
Before I start to explain I feel I must acknowledge some very important people. Our customers are the reason we exist. We joke sometimes how we could get a lot of work done if it weren't for all these customers! It's truly a joke, we know who supports us and we appreciate them tremendously. Our staff is incredible. We have a very young and dedicated group of people. I am proud to say we have provided first time jobs to many people and some of them have stayed on to develop careers here and others have used it as a springboard to their passion. Some it has been second careers and some have just passed through. Either way I am proud of all of them as I have watched them grow. Please anticipate our fall edition of this magazine and look for the meet-the-staff section.
I would also like to acknowledge some important people who laid the foundation for my career and ultimately the evolution of this store. I am only two generations on my father's side and three on my mother's side removed from being immigrants. There are also many connections to agriculture in my ancestry. My great grandfather on my father's side was a horse trainer in Hungary and my mother's father, Dr. Spurlock, was a veterinarian here in the United States. Dr. Spurlock was well known in Monmouth, Ocean and Burlington counties as a dairy veterinarian, as well as equine and small animals later in his career. Mr. Norman Parker (and many others) have told me many stories about him, but that's for another day. I'd be glad to share them with you when you are in the store. The immigrant work ethic that I was born into has had a tremendous impact on my life and I am proud of my heritage. Frank South, who hired me as a cashier, and then several managers, Jeff, Steve, Glenn and Ralph, all taught me countless things for which I am forever grateful. Then there was Dave Durr, who not only supported me as Agway's region manager, but, along with Paul Mikosky, presented the opportunity of a lifetime to purchase this store. Saying that I am eternally grateful to them is not saying enough.
Last, but certainly not least, my wife Cheryl's ancestry is full of agriculture as well as many independent business owners. Harry Taylor and family, originally from Windsor, NJ, were known for generations because of their general store and, most recently, Dealers Auto Body. When I came home from work one day and told Cheryl about the opportunity of buying this business, she never wavered. She knew what was at stake and what it would entail; she grew up with it. She has been a steadfast supporter of every venture since.
My point is this: this is a family business and these types of businesses are what built our country and are what grow and enhance the communities we serve. Our commitment is to serve our community through jobs, commerce and support. We are proud supporters of our two local FFA chapters, other school-to-work programs and many other non-profit organizations. We are proud to be involved in our local community and honored to serve it.
Agway, Inc. when formed in the 1960's , was a great name. That name said and stood for a lot of things: fairness, quality, co-operative, farm, animal, hometown values, and the list goes on. For nearly 40 years farmers, consumers, animal lovers, contractors and others have relied on the service and convenience of their local Agway.
In the year 2000, when Cheryl and I were presented with the opportunity to purchase the store, the Agway brand was in line with the direction and values we wanted to carry forward as business owners. As the years have gone by, I noticed a shift in my clients' perceptions of the Agway brand. As independent Agways began to diversify and develop different business philosophies, I believe it started to confuse the customers. Why does or doesn't your Agway or my Agway carry this particular product? Why are your store hours different? Why does that store carry Agway products, but isn't an Agway? We are asked these questions and more by customers almost daily.
Over this period of time, the economy, competition, as well as our customers' needs, changed. We have done our best to stay ahead of, or in some cases keep up with, the constant change. What we started to see more and more, was our name no longer truly defined us. Since 2000, we have had the Bohonyi Corporation logo as part of our main logo, but we seemed to continue to fall under the Agway umbrella. No matter how we tried to differentiate ourselves, we felt our corporate identity was being misunderstood. Not that any of these labels were necessarily bad, but we were striving for something more. We also experienced the perception of just being a farm store, again not a bad thing, but we saw ourselves as so much more. Unfortunately, someone who hadn't grown up in a town with an Agway and/or moved to our area, would assume - by our name - that we were just that. Again, we are very aware and proud of our roots, but we were becoming more diverse. So now it was time for change. I personally racked my brain for several years and checked, and triple checked, my plan, my motive and my heart, to make sure this was the right thing to do. See, I have been working here since I was 17 and now I am 42. Change is hard for me too. This store is practically an appendage to me (or me to it!).
I also didn't want to offend or discourage our loyal customer base. We know you, we appreciate you and want you to see us as who we are. We are Animals and Gardens Unlimited! What we won't do is forget where we came from. We will not forget about superior customer service nor giving back to the community, which has given us so much. Our roots are vigorously wrapped around agriculture. We still are privileged to provide many tons of feed to animals big and small. We still offer, and always will, seed and fertilizer to grow everything from corn to cucumbers to clover. We see our opportunities as unlimited. We look forward to seeing and serving you and we welcome your comments and concerns.
Thank you for your business.
James A. Bohonyi, Jr.
(Jamey)
About Us from 2000 to 2015
The building which houses New Egypt Agway has been a fixture in New Egypt since 1929, when it was owned by Burlington County Co-op, GLF. Agway was established in 1964 by three cooperatives in the Northeast. It was an agricultural cooperative, owned by 71,000 farmers. One of the parenting cooperatives later purchased the building, and in 1967 turned it into an Agway store.
The store was cooperatively owned until early 2000 when Jamey and Cheryl Bohonyi purchased the building, property, and inventory. Jamey had managed the store for several years before the purchase.
The New Egypt Agway features industry leaders in equine feeds, supplements, fencing, gates and supplies, as well as pet foods and supplies. Our lawn and garden department will help you keep growing. There are also many seasonal items and gifts available. In addition to the array of products, our outstanding customer service is the best value offered at New Egypt Agway.
A message from New Egypt Agway:
We are proud to announce that your very own New Egypt Agway won 2 awards at the 2014 annual trade show for Agway and Southern States Dealers. The first award was for largest volume single store in the entire Agway territory which lies from Maine to Delaware. This is the 4th year in a row that we have won this award. The other is for largest volume feed dealer in the same region. This is the 7th year in a row that we have won this award. On behalf of myself and the entire Bohonyi Corp./New Egypt Agway team, we say thank you to all of our many loyal customers. We could not do this without your support. It is truly our pleasure to serve you.