---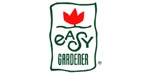 Easy Gardener Lawn & Garden Products
For the past 25 years, Easy Gardener has manufactured and distributed some of America's best-known lawn and garden product brands. Sold at home improvement, garden stores and nurseries across North America, Easy Gardener's range of garden products include landscape fabric, edgings and borders, frost protection, fencing, chain and other garden accessories. A Jobe's Company Brand.
Follow Easy Gardener Lawn & Garden Products Online
Product Lines
Categories
Want more information on Easy Gardener Lawn & Garden Products? We can help.
Fill out the form below and we'll get in touch. The fields marked with, *, are required.