---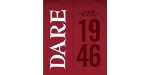 Dare Fencing Products
In the history of any major industry, one name usually stands out as the driving force behind its very existence. In electric fencing, that name is DARE. Since 1946, Dare has been manufacturing the highest quality products and providing the ultimate in customer service. We invite you to discover the Dare heritage and join us as we lift the electric fencing industry to even greater heights.
Follow Dare Fencing Products Online
Product Lines
Categories
Want more information on Dare Fencing Products? We can help.
Fill out the form below and we'll get in touch. The fields marked with, *, are required.