---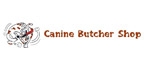 Canine Butcher Shop
Canine Butcher Shop has been providing healthy and nutritious snacks for dogs since 1996. All of our products are handmade and processed in our plants in Chicago, Illinois. Unique taste and texture combinations keep dogs interested in CBS products promoting extended chew time which helps in maintaining your dogs dental health.
Follow Canine Butcher Shop Online
Product Lines
Categories
Want more information on Canine Butcher Shop? We can help.
Fill out the form below and we'll get in touch. The fields marked with, *, are required.