---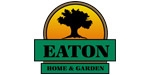 Eaton Brothers Corp
Eaton Brothers is a third-generation family business founded in 1934. We are a leading supplier of natural burlap fabrics to the garden industry. We also carry a full line of the following garden products: Domestic Hardwood Stakes, Tree Care Products, Fall & Winter Protection Products, Jute/Sisal Twine, Fiberglass Trellises and more. Eaton Brothers are dedicated to providing our customers with quality products in an affordable and timely manner.
Follow Eaton Brothers Corp Online
Product Lines
Want more information on Eaton Brothers Corp? We can help.
Fill out the form below and we'll get in touch. The fields marked with, *, are required.