---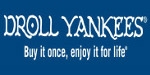 Droll Yankees
With over 50 different bird feeder styles to choose from, Droll Yankees bird feeders are very easy to fill and clean, and generations of bird lovers have appreciated their quality construction, functional simplicity, and commitment to American workers. It is rare nowadays to find a company that stands behind its product, but Droll Yankees offer a Lifetime Warranty and will replace any defective or squirrel-damaged parts, free of charge. Many Droll Yankees customers have used their feeders for over 30 years!
Follow Droll Yankees Online
Product Lines
Categories
Want more information on Droll Yankees? We can help.
Fill out the form below and we'll get in touch. The fields marked with, *, are required.