---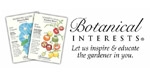 Botanical Interests
Botanical Interests began their business in 1995, in the spare bedroom of their Colorado family home. The business objectives they established then still hold strong for them now: to inspire and educate gardeners; to provide high-quality seed to their customers, and to create an enjoyable work place for employees. Over the years, Judy and Curtis' family has grown along with their line of seeds which now attracts and pleases customers nationwide.
Want more information on Botanical Interests? We can help.
Fill out the form below and we'll get in touch. The fields marked with, *, are required.